PART 2: PREPARING THE MESSAGE BOX
The Message Box is a structured method that scientists can use to craft their science messages for nonspecialist audiences. This technique is frequently introduced as a way for researchers to effectively communicate with journalists and, in fact, our use of the Message Box will feature a back-and-forth between a scientist and a (pretend) reporter. But this technique is about a lot more than just media training, as the journalist is really a stand-in for the audience with whom a researcher is attempting to communicate. So, whether you are planning on becoming the next talking head on CNN or just want to explain to your family what you do all day, the Message Box is a great place to get started.
Reading assignments. Nancy Baron has written the bible for science communication, Escape from the Ivory Tower. She has extremely generously allowed us to have a copy of the Message Box chapter from her book (chapter 8), free of charge. Please read this chapter, which you can download on the Google+ page for the class (look for it under the category of Week One). For obvious reasons, we can't link to the specific chapter from this blog.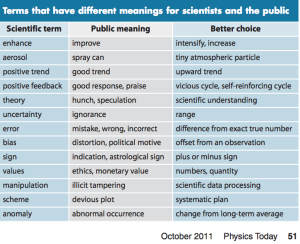 As a second reading assignment, please read Communicating the science of climate change, which came out in Physics Today three years ago. The section of the article to focus on is Better Communication. This article really makes clear how words can really get in the way of science communication – sometimes in very unexpected ways. Many scientists already know that the use of jargon can make it hard to talk with people not in their field. But the article discusses a more  insidious problem, namely with language that has a double meaning (one meaning for the public and another for the scientist). Read the article to learn how to dodge this particular minefield.
Preparing your Message Box. Using the guidance from Nancy's book, please prepare a Message Boxes for your own science. At the following link, you'll find  a blank version of the Message Box form.
Please prepare your Message Box for a specific audience, preferably the target for your future videos. To identify your exact audience is incredibly important, as across your possible audiences, what is compelling (and what is unintelligible jargon) might vary tremendously. Here is an example of a specific audience: people in coastal Rhode Island, concerned about flooding, who might want to hear about a researcher's latest findings about the subject. Here is an example of what is not a specific audience: science-interested people viewing YouTube videos.