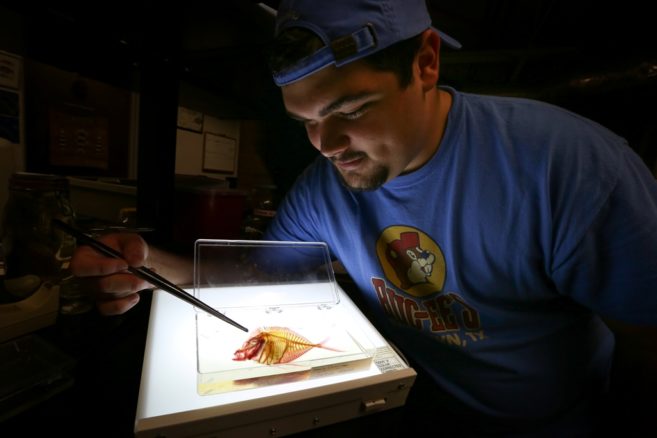 UPDATE: Class registration is now closed. But fear not, as more awesome science communication classes are coming up. To be the first to know about these new classes, sign up for our mailing list!
---
Instagram can be a powerful tool for scientists, scientists in training, alt-ac researchers, and academics generally. Instagram is also an increasingly popular platform for experiential learning, providing opportunities for virtual science field trips and broad sharing of research experiences. When used effectively, Instagram can deepen student learning, advance research careers, improve productivity, and further outreach goals. Experience with social media can be very helpful when applying for academic positions. Unfortunately, very few researchers receive any training on how to use Instagram for professional purposes.
That's where SciFund Challenge comes in with our new class: Using Instagram to Boost Your Science. Over three weeks, you'll learn the basics of Instagram, how to take better photos, and how to use Instagram to share your scientific experiences like the best in the business. Even better, by the end of the class, you'll have created a personal Instagram plan to further your research or outreach goals.  And on top of that this class is co-developed with Louisiana State University's College of Science and Communication across the Curriculum program!
By the way, check out the coverage in Nature of a recent SciFund class that we ran!
USING INSTAGRAM TO SHARE SCIENCE AND BOOST YOUR OUTREACH: CLASS DETAILS
Produced in partnership with:




When. The class runs three weeks: January 27 – February 17, 2017. Registration runs until the class begins or class sells out.
Who. Students*, academics and alt-acs in any country and in any discipline who want to learn how to use Instagram professionally. This class is targeted at those who have little to no experience with Instagram.
*Free registration for current Louisiana State University students. LSU email required.
How many. There will be a maximum of 100 course participants.
How much. The course fee is US $25, payable through the registration process. The fee is waived for LSU students, as part of this SciFund Challenge/LSU partnership.
What.  By the end of the course, class participants will / will have the skills required to:
Understand how to use Instagram effectively for professional advancement.
Understand how to minimize social-media pitfalls, allowing participants to use Instagram with confidence.
Build a following and maximize engagement.
Compose  and edit a photo properly.
Develop a personal plan for how to use Instagram to advance their own career goals.
Create content with a target audience and career goals in mind.
The general topics for each week are:
Week 1: Beginner. In this week, we will teach you the basics of Instagram, including how

Photo by Paige Jarreau

to re-gram and direct message, what hashtags are all about, and also how to find and follow people useful to you. We will show you examples and trends of how science students, scientists and science communicators are using Instagram. After you work through the assignments with the help of classmates and instructors, you will have a solid understanding of how Instagram works and you will begin to understand where you fit into this digital ecosystem.

Week 2: Intermediate. Building on the previous week, you will learn how to identify the audience for your Instagram posts. You will also learn how to shoot compelling photos/videos to share your science and promote science literacy and engagement. In the Google hangout chats, we will discuss the potential drawbacks of putting yourself out there, but also the benefits of self-promotion, of outreach through visuals, and of getting your ideas out to a wide audience. By the end of the week, you will feel comfortable composing engaging pictures/videos and posting these to Instagram to different audiences using relevant hashtags.
Week 3: Advanced. The first two weeks cover mainly unidirectional interaction. In this week, we cover some of the more advanced ways that academics can use Instagram to share science in multiple formats (traditional visual posts, stories and live stories) and to strategically interact with multiple audiences at once. We will also discuss how to handle multiple Instagram accounts and how Instagram can integrate with other social media platforms. The course wraps up this week with discussion about how you can craft a Instagram plan for yourself to support your career or outreach goals, with an audience in mind.
Where. The Internet! This course will be highly interactive and will take place largely via a private Google+ community, Google Hangouts, Instagram, and blog posts. Don't know anything about Google+ or Google Hangouts? Not to worry: we'll walk you through step by step.
How. This is a very hands-on course. SciFund classes are based on the philosophy that learning happens most effectively when students truly engage with each other and with the instructors. To facilitate this engagement, the weekly class is designed in a three-part structure: 1) do something by yourself such as assigned tasks, 2) collaborate with others in the class, and 3) talk about the week's exercise(s) via 1-hour moderated TA sessions (the last done through Google Hangouts). This class is designed to be time flexible, so there will be TA sessions held at many different times each week.
Time needed. Course participants should expect to spend about 3-4 hours per week on this course.
Course instructors.
Dr. Paige Jarreau, LSU College of Science and CxC (@scicommnerd and @lsuscience on Instagram). Paige works with LSU faculty and students to help develop their skills in the areas of science communication and social media. She is also the lead writer for the The Pursuit, the LSU College of Science science blog.
Dr. Becky Carmichael, LSU College of Science and CxC (@lsucxcscience on Instagram). As the CxC Science Coordinator, Becky works as an instructor, mentor, and a Wikipedia Education Foundation liaison, communicating science with faculty and students.
Dr. Jai Ranganathan, SciFund Challenge. Jai is an ecologist who has taught many of the SciFund Challenge Classes.
Dr. Anthony Salvagno, SciFund Challenge (@iheartanthony on Instagram). Anthony is a biophysicist and Director of Education for SciFund Challenge.
What you need. What class participants will need to participate in this course:
A public Instagram account. If you don't have one, you can sign up for one for free by downloading the Instagram app on your mobile device. If you have a private account, you can start another public account for the purposes of this class.
An email account that allows access to Google+. Gmail accounts are perfect for this purpose. If you don't have one, you can sign up for one for free here (be sure to select the option that allows for Google+ access). Note: if your non-gmail email account is administered by Google, it may allow for access to Google+ (you'll have to check your local settings).
Fluency in written and spoken English.
Access to a computer or tablet with a webcam.
Broadband access to the Internet (minimum connection speed: 1 mbps upload, 4 mbps download).
KEY THINGS YOU NEED TO KNOW ABOUT THIS CLASS
Our class is based on students engaging with each other in many ways during the course. As a result, the identity of every class participant will be known by all other participants. You won't be able to take this class anonymously or with a pseudonym.
The course cost is non-refundable.
Though SciFund Challenge is a non-profit organization, the course cost is not tax-deductible.
Questions. We want to hear from you with any questions or concerns about the class that you may have. Additionally, if the class fee is a hardship, please let us know and we will work with you. Please contact Anthony Salvagno (anthony@scifund.org).