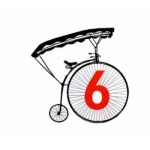 You know Erin?  You should. We profiled her yesterday.
Today, Erin tweeted:
MA summer research is officially a go! YESSS! Thank you #SciFund and all who contributed so far – on to the stretch goals!! #itneverends 😉
Congratulations to Erin for being the sixth participant in this round to become fully funded! This means that a quarter of our projects are fully funded after ten days in this round. Who will be our next finisher? Could it be Jessica? Or Lindsay? Or will a dark horse spring from the back of the pack to surprise us?
You should go to Experiment, watch some videos, find a favourite, and support it!