https://experiment.com/projects/using-genetic-techniques-to-protect-fiji-s-fisheries
Each day we are going to highlight one of the amazing research projects seeking funding in Round 4 of the #Scifund Challenge. Today we meet up with the talented Erin Eastwood (she paints and sciences!) and she discusses the importance of understanding the movement patterns of fish in protected habitats in Fiji.
Tell us about yourself, where you are from, and where you see yourself going.
I was born and raised in Los Angeles, CA, and have been a total ocean nerd since the very beginning. I've been working within the marine science realm for about 5 years now, and have done everything from scrubbing tanks and chopping up fish guts as an Aquarist Intern at the Aquarium of the Pacific, to conducting my own research while snorkeling above glorious corals in the Great Barrier Reef, Australia. I just moved to New York where I'm a first-year Master's student in Columbia University's Conservation Biology program, with a focus on marine conservation and science communication. In particular, I study coral reef fish and their population dynamics (check out my project to learn more!). I'm really interested in pursuing a career with an NGO or different on-the-ground type of organization, where I can actually BE the change that I want to see in the world.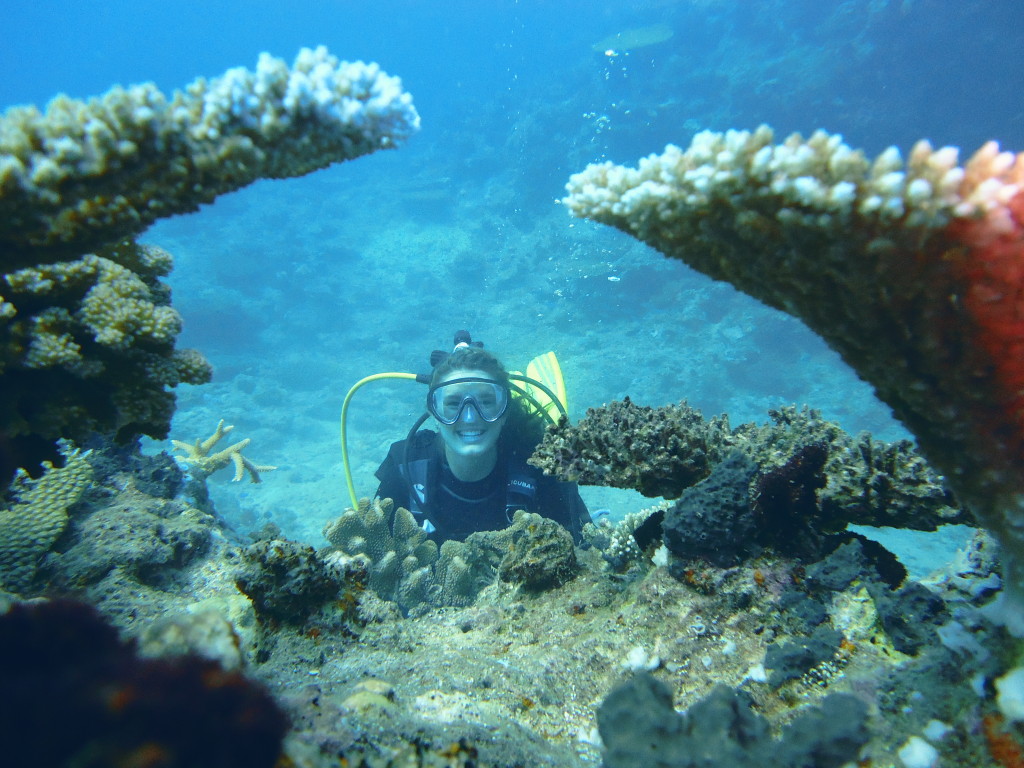 How did you get involved in your research project?
I went to Fiji two years ago to help a friend with her research on marine protected areas. Specifically, she studies the way that baby fish and corals find their way to protected areas through their sense of smell. So cool right!? At first I was really much more interested in the experiments we were conducting and the science behind the research, but as I got to know the people we were working with and interacted with the community more and more, I began to truly appreciate how closely the Fijian way of life is connected to the health of their reefs. The work then became much more personal for me.
From that trip on, I have focused on the benefits of scientific research to nature AND to people. Protecting reefs and enabling people to pursue their livelihoods don't have to be mutually exclusive. So basically when I was applying to graduate schools, I sought out a program that would enable me to look at conservation from both a social and ecological standpoint – and that's how I ended up at Columbia with Josh Drew as my advisor. We have worked really hard to develop this project, which focuses on conserving marine ecosystems while also providing a safety net for the future of small reef fisheries.
Why is your research important to you? Why should others fund it?
Because our oceans need to be protected! And people also need to eat and make a living! Weirdly enough those two statements are often considered to be at odds with each other, so my research is basically a super small-scale attempt to reconcile the two.
Even though Fiji is far away, and the reef fish dispersal patterns I'm investigating are on a relatively small scale, it's important to provide people who care with information they can use to make a difference. Namely, it's important to help the Fijian people.
Do you have a favorite story that came from working on your research project?
Oh man, SO many favorite stories! I actually just asked a few of my lab mates about their favorite stories and we laughed for about a half an hour before I could decide on one. So, one of my favorites is from last summer in Fiji, when our entire lab went out to this village, Nagigi (pronounced Nai-ni-ni), to conduct a survey of their reef fish. One day the current was absolutely ripping, so we decided to snorkel out to a closer patch of reef to collect fish rather than go diving further out. Well, it turned out to be absolute mayhem. After we got to the patch reef and collected about 10 or 11 fish we all agreed the current was simply too strong for us to continue. We were all steeling ourselves for the difficult swim back, when my friend Amy and I spotted a lionfish floating away from the little patch reef! It must have gotten a dose of the anesthetic we were using but taken a very long time to be affected, because it was now motionless, being swept away from its reef by the current. Amy and I took one look at each other, and then dove after the lionfish – we spent the next 15 minutes or so engaged in what felt like an epic battle to get this little fish into our bag. We were pumping our legs, blowing air through our snorkels, trying SO hard to stay next to this lionfish in the current, trying not to touch it (the spines are poisonous!) while also attempting to guide it into our catch-bag – which was made of mesh, the WORST material to try to catch a spiny, poisonous animal! I think at one point we were laughing through our snorkels because of how ridiculously hard catching this inert, drifting fish was – but damn it, we would not let it get away! When we finally did get him into the bag, we both let out these ragged little snorkel-cheers and gave each other underwater high fives. It was the most interesting and hilarious workout I've ever done.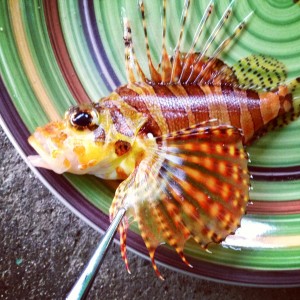 Why did you decide to participate in the SciFund Challenge?
Well, my decision to join #SciFund was actually born out of both necessity as well as alignment with my own interests. As a brand new grad student, finding funding for my research has been incredibly difficult, as grants open to students are extremely competitive and opportunities are few and far between. My entire last semester was basically spent in the library frantically hammering out grant proposals to the major sources of funding (*cough* NSF-please-fund-me *cough*) and trying to find the most obscure grants possible, and even after all that I knew there was a very low chance of me actually landing any of those funds. So, I decided to take matters into my own hands, and crowdfund my research!
I had heard of #SciFund from previous rounds, and the idea of learning how to communicate my science effectively while also putting together a crowdfunding project was really appealing. One of my favorite parts about being a scientist is sharing the crazy cool things I learn each day with my friends and family, and I LOVE the idea of expanding that audience out into the general public – what better way to do it than to take people with me (via the interwebz) as I conduct my research this summer??
What was the most difficult aspect of building your SciFund Proposal? What was your favorite?
I know people typically say the video, but weirdly for me, it was the title! I really wanted something catchy and fun, and initially came up with something like "Following Food Fishes in Fiji" (alliteration all day erry day), but I got a lot of great feedback that it wasn't very clear, wasn't informative enough, and maybe a little too cheesy haha so I ultimately went with something a bit more descriptive and clear – "Using DNA to Protect Fiji's Fisheries".
As for my favorite part, it was definitely the video. I loved making the stop-motion animation (even though it literally took me 5 hours to get those 1.5 minutes of animation recorded), and I am extremely lucky to have a younger brother who's very editing-savvy – check out his production company, BernwoodFilms.tv! – so he was able to help me out a lot. The only sucky part about making the movie was filming in 9 degree weather on the steps of the library at Columbia. It was absolutely beautiful, but also soooo very cold.
Tell us something random. Something funny. Something borrowed. Something blue.
One of my study species, the Daisy Parrotfish, wraps itself in a cocoon of mucus every night before it goes to sleep. Taking security blankets to another level.
You can find Erin's project here.