https://experiment.com/projects/the-role-of-human-factors-in-scuba-diving-incidents-and-accidents
Each day we are going to highlight one of the amazing research projects seeking funding in Round 4 of the #Scifund Challenge. Today we learn about SCUBA safety from Gareth Lock.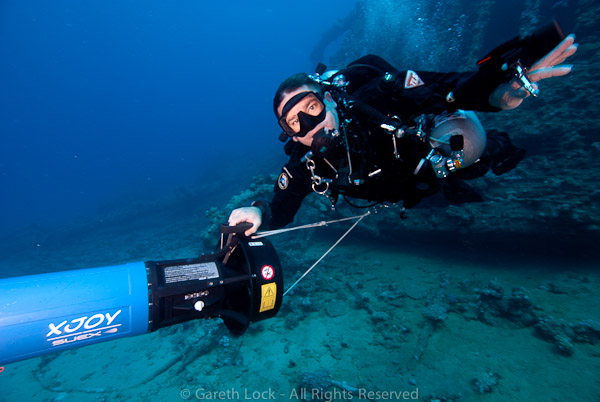 Tell us about yourself, where you are from, and where you see yourself going.
I am currently serving in the Royal Air Force as a senior staff officer in procurement of defensive aids systems on helicopters and transport aircraft. I am based in the South West of the UK and see myself developing using the skills in academia in my future roles.  I love technical diving and combining it with underwater photography, specialising in deep wreck photography.
How did you get involved in your research project?
I started diving in 2005 and at about the same I read a paper on the Human Factors Analysis and Classification System (pronounced 'aitch fax') and I could see many parallels with incident reporting but recognising there wasn't anything like this in diving. I soon realised that there was a lack of a Just Culture to make reporting. Further, people were using the lack of evidence to show that there wasn't a problem that needed to be solved. What I wanted to do was collect evidence to show the sorts of mistakes being made, so that people could learn from them and potentially change their own behaviours to prevent future incidents from occurring. Risk will always be there and we can't make diving a zero-fatality sport, but we can certainly improve things by showing people the scale and breadth of the problems likely to be encountered so that they can take personal responsibility for their actions.
Why is your research important to you? Why should others fund it?
I am passionate about improving diving safety, mainly because much of improving safety is down to common sense. I have invested 4-5 years of my spare time in this subject and probably close to $10 000 of my money. I am conducting research whose outputs are likely to be 'obvious'. However, as someone said to me, "the hardest things in the world to prove are a negative and the obvious!!"
Do you have a favorite story that came from working on your research project?
Not really, although there are some really lucky people out there in surviving the diving incidents they have done!  I am extremely grateful to those who have come to me, in confidence, to discuss their incident so I can turn it into a case study so others can learn. That is very humbling and appreciated. To be trusted and respected is one of the best feelings ever.
Why did you decide to participate in the SciFund Challenge?
I believe in sharing my work across a really wide population and this appears to be a great way to engage with the community, not just my UK diving community, but across the world. One of the challenges I face is that formal organisations are sometimes reticent to support what I am trying to do because it will show a failing in the system and may compromise their business models.  Personally, I would rather make things safer which has meant that I have had to fund the research myself so far.
What was the most difficult aspect of building your SciFund Proposal? What was your favorite?
Most difficult. Shooting the first 15 seconds of video because the weather in the UK has been so poor recently and I live a long way from any diving locations which meant I didn't shoot it until the morning of the 4 Feb! Favourite was putting the video together because it required some concentration in lining up the audio with the visual and extracting clips from the great work of some of my friends. I recorded the audio first in one go and then added visual clips to make it work.
Tell us something random. Something funny. Something borrowed. Something blue.
People make mistakes, all the time. Irrespective of experience, knowledge or attitude. Importantly we can learn from others' mistakes, but it requires us to have the self-confidence to report them, and requires us to be in a culture or community that will accept those mistakes as genuine without throwing rocks at those who discuss their mistakes.
You can find his project here.