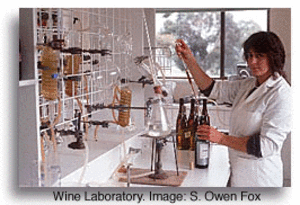 Happy two days after Thanksgiving! We assume that you (if you're American) have now recovered from consuming massive quantities of Turkey at your family dinner where you told EVERYONE about the awesome new science crowdfunding project, #SciFund! Yes?
So, now it's time to both celebrate, and contemplate Holiday gifts for Chrismanukanwzolstice! (Did I miss any?) And what better gift to buy than the gift of Science in a bottle!
That's right, today's featured #SciFund project is Matthew Hutchins's Methods of Artificially Aging Red Wine!
Why is this the perfect #SciFund project to fuel for the upcoming holidays? Quite simply because of the rewards – starting at the $15 level, Matthew will send you experimentally aged bottles of wine. For $25 you get one from each experimental method, to taste and then report back on the results. That's right! You can be a part of the science! (local laws apply to rewards)
I just find this project fascinating – as a wine-lover, I think this whole idea of artificially aging red wine so that your 2 year old Cab can taste like a 20 year old bottle is fascinating. As a scientist, I love that this brings science to the table in an area that I know a lot of you have great interest.
So go fund some red wine research! And, heck, if you are excited about this, keep on funding it, because if they get enough money and find a successful technique, they'll start part two of the project – artificial aging of single malt whisky!