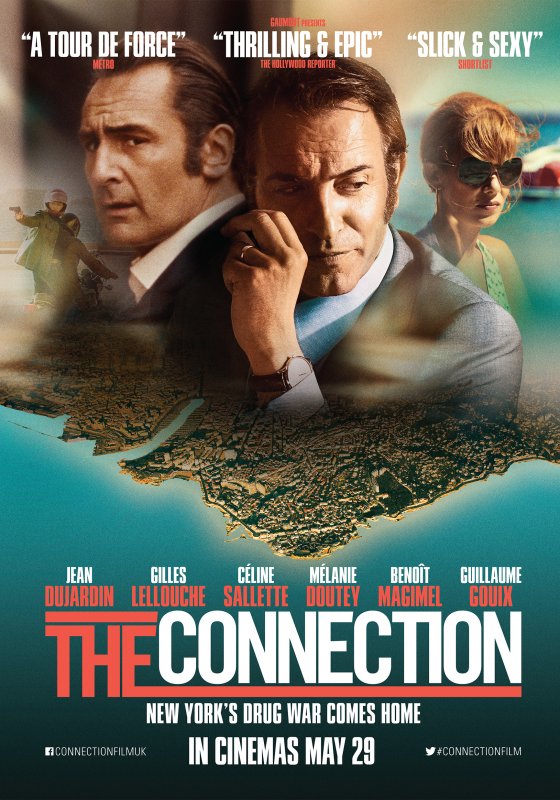 Welcome to Week Three of SciFund Challenge's Twitter class (2016 edition)! In this, final week of the class, we'll be focusing on genuinely engaging with others on Twitter. Why does this engagement matter? It's because it is the secret key to achieving almost all of your Twitter goals.
Before we actually get to the material, we want to emphasize two things in particular happening this week. First, as always, there will be discussion groups occurring later in the week – please sign up for one! Secondly, there will be two live Twitter chats for the class happening this week on Thursday (8 AM and 2 PM Pacific), which will be opportunities for all of us to practice live tweeting. More information about the live chats is in the material for the week.
So, here are the big topics for Week Three.
Why does engagement matter?
What are the conversations occurring on Twitter and how do we find them?
How do we archive important conversations?
What can we do to take our Twitter presence to the next level?
Let's get started!
Engagement on Twitter: why does it matter?
Practically everyone in this class wants to use Twitter to help expand their ability to connect with people. Maybe you want people to be more aware of things you are doing or to participate more in programs that that you are organizing. Perhaps you want people to pay more attention to you and to spread the word when you do have something to say. Or maybe you want to make initial connections with people who could be important to your career (potential employers and the like).
There are an endless list of similar kinds of goals, but they all have one thing in common: they really aren't about Twitter at all. Rather, they are all about building connections with people who just happen to be on Twitter – Twitter is just the medium within which you are communicating. There's an important consequence to this: everything that you have learned about how to connect with people in your regular life also is completely true on Twitter.
To illustrate this, let's use two scenarios that we have all been through. Imagine yourself at a party. You are trapped in a long conversation with someone who is talking at you – without letting you get a word in – about a topic that you don't particularly care about. For anyone who has been on the receiving end of this one way jet stream of talking, it certainly doesn't take very much before the desire to flee becomes overwhelming.
Here's a second scenario. You're back in the same party, but this time, you're having a conversation with several people. The topic of the conversation is something that everyone cares about. Everyone in the circle is mostly listening to what others are saying, but each person chimes in when he or she has something to further the conversation along. This back and forth can go on for forever (or until the party host kicks everyone out).
Obviously, the second scenario is the happier one. It's also the one that is much more likely to lead to building connections between people. The scenario, at the end of which, people are more likely to make future plans to connect again. On the other side, that person monologuing at you from scenario one is probably someone that you are going to be a little less likely to talk to in the future.
The second scenario is our model for engagement: talking to people about issues that they genuinely care about, doing at least as much listening as talking. That's a big way to connect to people in real life and it's a big way to connect on Twitter too.
So, first things first. On Twitter, let's avoid being the monolog person who is driving everyone away. What this means is that your account should not function as a non-stop press release machine. This may seem like odd advice, because if you look at the most popular people on Twitter, their accounts absolutely are press release machines. Check out the musician Katy Perry (@katyperry), who has the biggest following on Twitter (93 million followers as of this writing). This account is very much a one-way flow of information entirely based on whatever Katy Perry wants to talk about. The reason why this approach works for her is that she had a pre-existing (gigantic) audience. There was a pre-built set of people who were already very interested in hearing everything that she might have to say. So, if you have happen to have a very engaged audience, this approach might work for you too.
The trouble is that very few of us have the ability to fill stadiums. We are not using Twitter just to engage already-existing audiences – we're using it to try to build that audience in the first place. On account of that, the name of the game is engaging audiences on their terms and to have conversations on their terms.
So, how we do translate all of this real life behavior onto Twitter? Are you supposed to never mention what you have going on Twitter (to avoid being the press release machine)? In a word: no. Just as in your actual life, you should definitely bring up your papers or whatever else you want people to know about. But if your goal is to connect with your audience, the majority of your activity on Twitter should be engaging them in ongoing conversations.
How exactly do you do that Twitter conversation thing again? First step: let's actually find the conversations that are occurring. Next section!
Types of Twitter conversations
There are two broad classes of conversations occurring on Twitter: impromptu and planned.
Impromptu conversations: (part 1): Earlier in this course, we talked about how to find the conversations in active use by your target audience and the hashtags used to signify those conversations. If you are relatively new to Twitter (or your target audience), it may not be obvious at first glance what these hashtags might be – or even if they exist for your group. It would be a rare Twitter group indeed that is not having conversations denoted by hashtags. If you are having trouble finding them, just continue keeping an eye on the tweets of your audience – it will almost certainly become apparent.
Some of your audience's conversations (and associated hashtags) will be relatively short-lived. Others though will be longer-term conversations and the associated hashtags are the ones in particular to keep an eye on. Here are two examples of longer-term conversations that have been mentioned earlier in this course: #scicomm (for those interested in talking about science communication) and #rstats (for those interested in talking about R, a statistical programming language).
Impromptu conversations (part 2): At any given moment, certain conversations are going big on Twitter: not just with your target audience, but across the platform. Some of these conversations may well be something that you want to get involved with, as a way of engaging with more people. On Twitter, these conversations that are getting a lot of attention are called Trends.
Twitter makes it very easy for you to see which hashtags (and corresponding conversations) are trending. If you login to twitter on your browser, the left side of your screen will look as follows (image below). Right below Jai's name, you'll see a column called "Trends" that lists all of the topics that are trending at that moment. You modify the trends that you are seeing. By default, Twitter will attempt to show you trends that are (sort of) tailored to you. At first glance, the list of trending topics may seem to have no relevance for you, but there usually is something to grab hold of. For example, one of the trends pictured below is #NationalCoffeeDay. Jai's ecological research centers on tropical agriculture, like coffee, so this hashtag could be a great way for him to connect his research to a wider audience. However, you can also change the trends that you see. If you the click the Change link (red arrow below), you see the trends for specific geographical areas.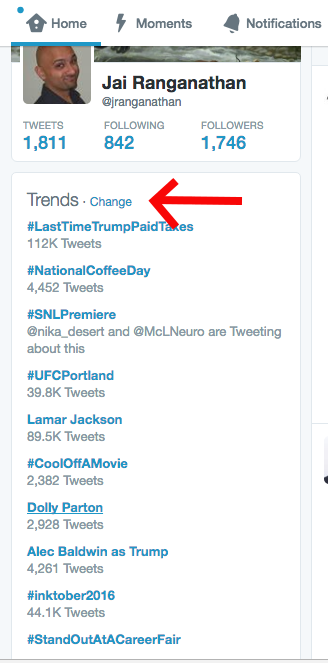 You can examine trends in Tweetdeck as well. You can see trending topics in Tweetdeck by clicking Add Column followed by Trending (arrows 1 and 2 in the image below).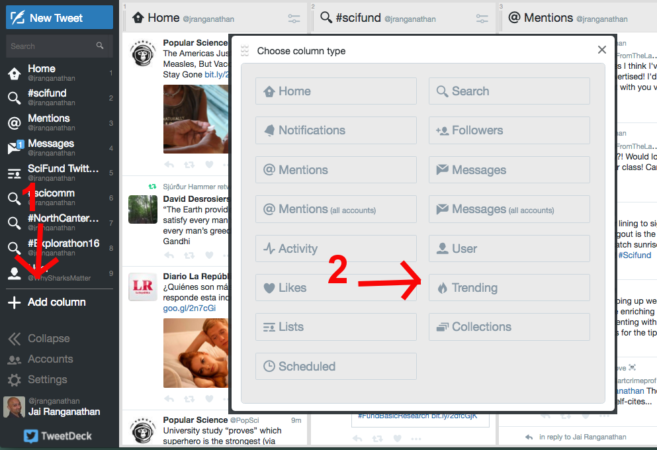 In the resulting window, you can see the trending hashtags that are tailored to you. If you click on any of the hashtags in the window, you can make that a column in Tweetdeck (see image below). You can also see the trending topics by geographical region by clicking on the drop down box (red arrow below). As with the prior example of Twitter trends, there is also a hashtag here that would be a great place to engage audiences with science: #Cometlanding, which refers to the end of the comet-studying mission by the Rosetta spacecraft.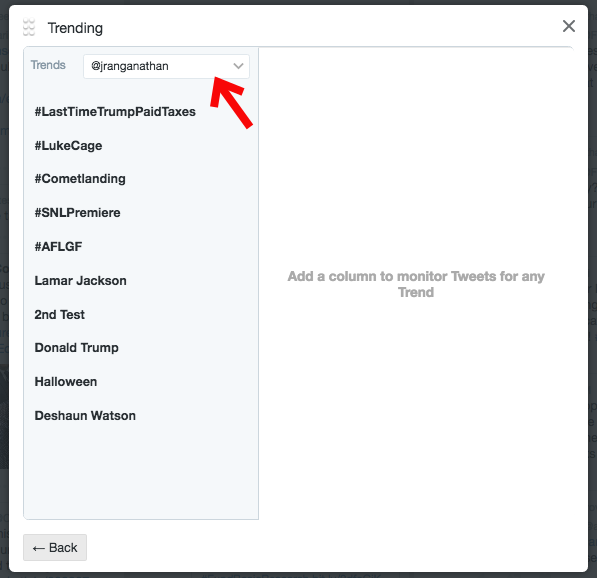 Planned conversations: conferences. Many conferences will have a hashtag that resembles either the name, or an abbreviation of the name, and the year of that conference. For instance, Biophysical Society is currently using #mbibps16 for their conference in Singapore. Participants at these conferences use these hashtags to "live tweet" talks and to generally talk about what's going on there. When done right, the use of conference hashtags allows you to join a conversation even if you aren't physically present. The best conference hashtags are so busy, it will feel like you are in every presentation no matter how you participate! Even better it will allow you to take part in those hallway conversations, where connections between people are really made
Planned conversations: live events. Live events are like conferences, but only last for a few minutes to hours and generally attract a lot of media and public attention. Think of press conferences like Apple's annual keynote; these are opportunities to engage a lot of people about the topic that they are all tuning in for. How do you know what the hashtag is for an event? The event organizers will usually be broadcasting it as loudly as they can.
Planned conversations: Twitter chat. These conversations happen on a regular basis and usually happen weekly or monthly on practically every topic. They are typically Q&A sessions moderated by one account. They are great ways to network with others in your topic area and simultaneously introduce new perspectives and avenues you may not have thought about otherwise. Many times the questions introduced in the chat are very simple, but that's the point: to introduce a huge group of people to the many ways we tackle problems. For instance, #scistuchat was created to introduce middle and high school students to scientists on Twitter and to connect the two groups via conversation. How do you find out about upcoming Twitter chats? As always, just pay attention to your audience. To give you a little practice, we'll be doing two Twitter chats as part of this week's exercises using the #SciFund hashtag (see assignments for details).
Twitter for Curation
By this point, you may understand hashtags as a way to organize a conversation. You may even have used them to participate in a conversation. You can go even deeper than just having the conversation, you can curate one.
Storify is a great tool that allows you to quickly collect tweets and organize them. You can organize them around people, hashtags, keywords, lists, and even other people's favorites. Once upon a time, SciFund hosted a twitter chat and we collected the conversation into the Storify you see here.
Why would anyone want to create a storify? One reason is to increase the lifespan of a typical tweet. Even though tweets don't disappear, they certainly become very challenging to find the longer it has been. Usually tweets are easily discoverable within 48 hours. With Storify, you can keep conversations from several years ago.
Another good use of Storify is to record conversations or even thoughts. Ever been to a conference that was live tweeting sessions? You could essentially collect the tweets from each session (an example here) to get a feel for the discussions that happened that you couldn't be a participant.
Even better, you could be using tweets to take notes, then you would Storify those tweets into something coherent. For instance, Ant participated in a lecture about patent law, which he live tweeted as it was relevant to discussions on #openscience. Once the chat was over, he Storified the tweets and added extra bits that didn't get tweeted to expand on the original information. Check out that Storify here.
How to create your own Storify
Creating your own Storify is a pretty simple process, and best of all it's free! You will need to sign up for an account though, luckily you can sign in via Twitter. Setup your first Storify by visiting Storify.com.
Once you get logged in, create a new storify by clicking the "New Story" button in the top right corner of the screen.

Your screen should look something like this:
Begin by creating a title for your story, and possibly a description. Then begin to find the tweets that you want to organize. The panel on the right side of your page can be used to find content on Twitter, Instagram, Facebook, etc. For now let's just stick with Twitter content, by clicking the Twitter button: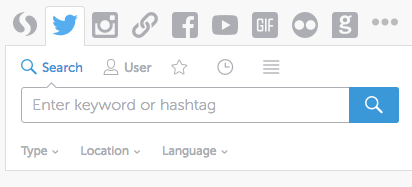 To find content you first need to search for it. You can click the magnifying glass icon to search for keywords or hashtags, the user icon to search for specific people, the star icon to search for favorited tweets (via specific tweeters), the clock icon to search your own timeline, or the hamburger icon (as the menu icon is lovingly named in graphic design circles) to search Twitter lists. To search twitter lists, you'll need the twitter list url.
For example, we'll make a Storify of things people are saying right now via the SciFund Twitter Class list.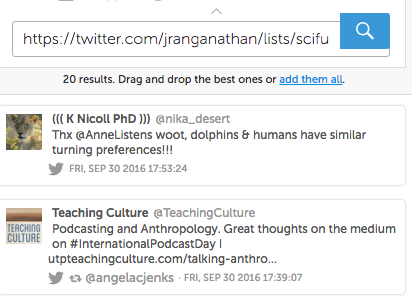 As you can see after searching the list via url, we can either add all the currently displayed tweets (by clicking "add them all") or drag and drop interesting tweets for the right column into your Storify on the left.
Once you add some tweets, you'll notice that your Storify has grid-like arrangement. This allows you to rearrange tweets/content as needed. You can even add text between tweets by clicking the white space separating your content.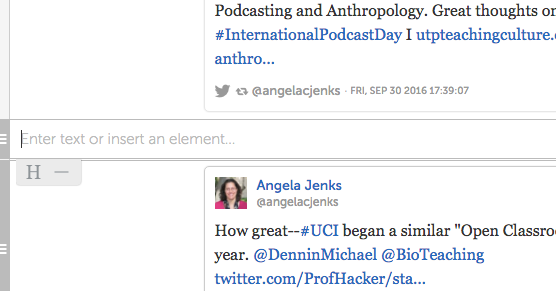 Once you have organized your content, added some commentary, and completed your Storify just click "Publish" at the top of the page and presto: you've got a collection of tweets that you can share with the world.
After publishing, you may see a pop-up that allows you to promote your Storify and simultaneously notify people who have been quoted. Check out this demo Storify here.
Not to be outdone, Twitter created their own curation tool called Moments. You can create these Moments in a similar fashion to Storify, with the exception being that you can't add commentary to the tweets. That means that Moments are just simple collections of tweets.
Whether you want to make a Moment or a Storify depends on your situation, but in either case start collecting and expand your usage of Twitter!
Take Twitter to the Next Level
You can see how Twitter is much more than just tweets, followers, and hashtags. Not only is there so much to discover, but Twitter is changing all time time. There are also lots of different uses for Twitter, so much so that we can't possibly cover all that in this class. This discovery will ultimately be up to you, but here's a few useful things to get you started:
Integration. Did you know that you can integrate your social media, if that fits in better with your workflow? By that, we mean that you can post to Facebook, and have those posts show up on Twitter. You can also post to Twitter, and have those show up on Facebook. Here are some ways to integrate your social media for easier posting!
Facebook to Twitter — This is super easy. Click on this link, and choose either "Link My Profile to Twitter" or "Link My Page to Twitter". Boom — your Facebook posts get pushed to Twitter!
Twitter to Facebook — Log into both your Facebook (personal account or FB page) and Twitter accounts. In Twitter, go to the Apps tab in Settings. Click "Connect to Facebook." (You may need to allow it to "manage pages.") Modify the privacy settings as you see fit. Now all your tweets should get pushed to Facebook! For more, see Twitter's help page on this.
G+ to Facebook and/or Twitter — For the advanced users, check out this link for how you can integrate G+/FB/Twitter.
There are other apps you can use to update FB and Twitter simultaneously, like TweetDeck and stand-alone apps like Selective Tweet. Check those out if you want more flexibility in what gets pushed where.
Verification. Twitter will "verify" accounts with a blue check mark so that users can ensure they are tweeting at the "real" person. For example, @NeilTyson is the "real" Neil Degrasse Tyson, whereas @NeilDTyson is just some yahoo. You can tell, though, because (in addition to the difference in follower numbers), the former has a blue check mark. If you have a lot of followers, or if you're a journalist or other public figure tweeting regularly, you can click here and register to be verified.
Emojis. This is the hot new thing on Twitter: emojis in your name and/or your profile. Of course, you can also add these emojis into your tweets. But putting them in association with your name can be a clever way of visually identifying who you are or what you research. Here's a list of the emoji that work with Twitter.
Analytics. Twitter gives you information about who is reading your tweets, how widely they've been shared, and other interesting clues to who is engaging with your outreach. If you're logged in, just go to analytics.twitter.com to see your top tweets and top followers for the last month or so. Stats can be a good way to convince your boss, department chair, or other interested stakeholder that your tweets are reaching people.
Altmetrics. And for those of you in academia, you might want to find stats specific to tweets about your research or the research of others. Altmetric.com has information about the public and professional reach of articles beyond citations and H-index numbers. If you have a recent article, see if it's in Altmetric (some publishers don't post enough info for Altmetric to find it, but most major journal conglomerates and open access outlets do).
Click here to see Kristina's recent PLoS article and its coverage in news media, blogs, Twitter, Wikipedia, and other "nontraditional" venues. If you have an article with Altmetric tracking, try tweeting it — then check back in a day or two to see what happened!
Altmetric data might be useful for your tenure or promotion package, as the data show outreach beyond traditional publication data. They also might give you hints as to who is engaging with your work, and how you can better tweet your work to reach those audiences in the future.
Even more. Just in case you are looking for even more ideas about how to use Twitter (and social media in general) as an academic, here's a great blog post by the science social media wizard Paige Jarreau.
Assignments
Sign up and participate in a Hangout. You can do this via the Hangouts signup sheet on the class Google+ community.
Join one of the two SciFund Twitter chats occurring this week, if you can. This will be a great way to engage with other members of the class and get more comfortable using Twitter. We'll be talking about engaging audiences with your research and your outreach.

We'll be using the #SciFund hashtag for these chats.
There will be two times for the Twitter Chat, join whichever works best for you – Thursday: 8-9 AM and 2-3 PM Pacific (GMT-7).
We will send out a reminder ahead of time.
Each chat will last for an hour, but if you can only make it for a part of that time that's fine
Just show up at the designated time and be ready to tweet.
We will ask a few basic questions to break the ice, using the @SciFund twitter handle and #SciFund to organize the conversation. Each question will begin with "QX" where X is the number of the question (for example: Q1 for question 1). Try to begin each answer with "AX," where X is the corresponding number (for example: A1 for answer 1). Be sure to include #SciFund with each tweet.
Remember to check the #SciFund timeline to see how others are responding. Then interact with your fellow classmates and other members of the SciFund Network.

Engage other Twitter users in ongoing conversations that they are having. There are multiple ways you can join, based on the material for this week.

Find a trending conversation and create multiple tweets relating you to the topic (#NationalCoffeeDay for example).
Talk to your target audience using hashtags that you have noticed are in active use with your audience
Live tweet an event or conference that is relevant to you.

Optional: Create a Storify of the conversation you participated in, and tweet it to out the class using #SciFund and on the Google+ community for the class.
Complete your Twitter plan and post to Google+ community.