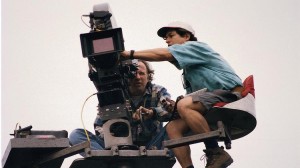 UPDATE (May 4th): The class is now full! However all is not lost, if you are interested in taking the class. We'll be offering the class again next year. Sign up for our mailing list to stay in the loop about our class announcements! We'll also be putting the written material from the course on this site, for all to see. It will take several weeks for us to rework the material into something that makes sense for someone not participating in the class. To stay informed about when that material is ready to go, sign up for our mailing list!
---
SciFund Challenge is offering yet another outreach training class for scientists! This one is all about learning to make short videos!
Scientists, do you want to learn how to tell the public about your science through video? Do you want to have the skills to put together compelling short videos?
But how do you get started with video? Join the SciFund Challenge community for our online course aimed at helping scientists get started with video. Over 5 weeks from mid-May to mid-June, we'll demystify the business of communicating science through video. We'll equip you with the tools and confidence you need to get started.   Plus, at the end of the class, you'll have completed a short video about your research (perfect for your website or YouTube). 
Our course is a little different than many online courses. This class, like all SciFund Challenge classes, is highly focused on collaboration between class participants. This connection by scientists across the globe and across disciplines makes our classes extremely engaging and allows participants to make rapid progress. It also makes our classes fun!
Best of all, no prior experience with outreach or video production is expected for class participants. Beginners are encouraged to jump in.
I am very excited to announce that one of the instructors of the course is Elliot Lowndes, a wildlife videographer and photographer with shooting experience all over the world. To give you a taste of that experience, check out his highlight reel:
So what kind of videos do class participants create in our class? Great question! Here's one example: a video created by Dr. Kristen Weiss, a participant in our class during its last go-round.
To make videos, you'll obviously need a video camera. To minimize costs for class participants, the video camera that participants will be using is a smartphone (as many people already own them and they are capable of capturing great video, under the right conditions). There are other things that course participants should know and will need (see below).
2016 Video for Scientists: engaging the public with your science using your smartphone (class details)
Cost: 25 US dollars (but if cost is an issue, give us a buzz – e-mail at the bottom). The course fee is nonrefundable, with one exception. In the event that your course application is not accepted, your course fee will be refunded.
Syllabus: Here is the syllabus for the previous version of this class. The content for this class will be similar.
When: May 15 – June 18, 2016.
Deadline for completing course application: May 14, 2016. Please note that our courses tend to max out early,  so don't wait to apply if you are interested. Decisions on applications will be done on a rolling basis.
Course instructors:
Where: The Internet! This is an online course, but unlike many online courses, there is a strong focus on engaging with other class participants. Why? Learning outreach methods (like video creation) is in many ways like learning a foreign language. Learning a language is most effective when you have people with whom to practice and so is learning outreach techniques. The engagement in this class will take place mostly through Google+ and Google Hangouts.
Who: Active scientists in any country in any discipline at any level (from graduate student to emeritus professor to government scientist to NGO scientist). This course is intended for scientists who are new to using video for outreach, but are interested in getting started with it.
How the class works: each week, participants will be given new material to learn and a new assignment that has three parts: 1) a task to complete alone, 2) a task involving others in the class, and  3) participation in a group TA session that takes place via video conference call (Google Hangouts). The class will take place mostly through Google+ (in a private community that only class participants can see). In short, this class is highly collaborative! Other the TA sessions (which occur at specific times), the timing of class activities each week is highly flexible.
Multiple 1-hour TA sessions will be scheduled each week and participants are expected to participate in one each week (a participant does not need to pick the same time slot each week). The TA sessions are tentatively scheduled for the following times each week, with all times listed in Pacific Time (GMT-7):
Monday: 8:00 – 9:00 AM, 10:00 – 11:00 AM, 1:30-2:30 PM, 3:00-4:00 PM
Tuesday: 8:00 – 9:00 AM, 10:00 – 11:00 AM, 1:30-2:30 PM, 7:00-8:30 PM
Wednesday: 8:00 – 9:00 AM, 10:00 – 11:00 AM, 1:30-2:30 PM, 3:00-4:00 PM
What course participants will gain from the course:
Understanding of how to communicate their science in a manner that is compelling to a general audience.
Basic comprehension of the key elements needed to make a short film, such as storyboarding, script writing, editing, and lighting.
Confidence to get started with video outreach.
Connection with an international and highly diverse group of scientists interested in outreach and video production.
A short video about their research.
Time that course participants should expect to spend on course: About 5 hours per week. Please note that this course is going to take time for participants. If you don't expect that you will have the time, please don't apply.
Expected number of course participants: Maximum of 100.
Requirements for course participants. Course participants must:
be fluent in written and spoken English.
have the recommended equipment on the equipment list (or if they have alternative equipment, be comfortable working with that gear on their own).
have access to a computer with a webcam.
have broadband access to the Internet (minimum connection speed: 1 mbps upload, 4 mbps download).
have an e-mail address that can access Google+ (as much of the class will be administered through Google+). We recommend that you use a Gmail address and you can sign-up for a free account here. Some people have non-gmail e-mail accounts that are still administered via Google – not all of these accounts can access Google+. If you are providing a non-gmail address, please double check your Google+ access.
want to have fun.
Required equipment. Assuming that you already have access to a video recording device and to a computer for video editing, the additional equipment to purchase will cost about 85-100 US dollars, if you go with our recommendations. Please don't buy anything until you have received an email accepting you into the class.
KEY THING YOU NEED TO KNOW ABOUT THIS CLASS
Our class is based upon students engaging with each other in many ways during the course. As a result, the identity of every class participant will be known by all other participants. You won't be able to take this class anonymously or with a pseudonym.
Other questions? Contact Jai Ranganathan (jai@scifund.org).