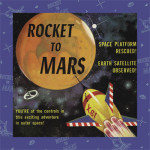 The National Public Radio service, who know a thing or two about getting support for their services through donations, have published a nice piece on science crowdfunding titled, "Scientists pass the hat for research funding." It includes some quotes from #SciFund ringleader Jai Ranganathan:
"Not all science is, you know, sending a rocket to Mars," Ranganathan says.
The related radio interview features Ethan Pearlstein, and seems to be the first in a series.
Update, 15 February 2013: Audio for part two is up now, featuring Jai.