Part 14. Using Other People's Stuff in Your Video
Almost certainly, you'll want to use other people's materials in your video (stuff like images, audio, music, or video clips). The trouble is that every video, image, and audio clip was created by somebody and that somebody most likely retains copyright control. How can we use other people's stuff legally and for free? There are several basic ways. Please note that we base this section on copyright law in the United States – your mileage may vary if you are elsewhere.
Ask. You can always reach out to the content creator of the thing you want to use and ask for permission to use it in your video. This method works surprisingly effectively, especially for non-famous content creators. You will be surprised at how often people say yes and, sometimes, they will even point you towards material that meets your needs even better. The less well known and the smaller the entity you are contacting, the more likely it is that they will say yes. When asking content creators for permission, be sure to let them know that you'll acknowledge them in your video.
Fair use. United States law allows for certain uses of other people's content for free, without needing permission from the content creator – this is called "fair use". Unfortunately, fair use doctrine is incredibly complicated and difficult to understand. Unless you have an intellectual property attorney advising you, this method is definitely not recommended.
Public domain. Material in the public domain is available for you to use in any way you want without the need for permission from anyone. There are several categories of public domain (it's a big topic all by itself), but one category that we wanted to point you towards is material produced by the United States government. Generally speaking, material produced by the US federal government is in the public domain. Here are just three examples to get you thinking:
The US military. The range of multimedia elements available from military sources is surprisingly broad and goes well beyond traditional military subjects. For example, there are over one hundred military bands and they have recorded a voluminous amount of music (it is far from just marches and the Star Spangled Banner). Here's the material available from just one of those bands, the United States Marine Band.
Creative Commons (the way you want to go).
Due to the incredible complexity of standard copyrights, a relatively new kind of copyright license has been developed – called Creative Commons – which encourages reuse and remixing of content.

The best part? There is a whole universe of Creative Commons material out there – just waiting to be used in your video. Just pay attention to the specific Creative Commons license of the thing you want to use (the license type will always be prominently posted). There are several kinds of Creative Commons licenses, but the majority of them allow others to reuse content for free, so long as credit is given to the content creator (a lot more detail on the licenses comes up later in this section).
Finding Creative Commons Images
One great repository of Creative Commons images is Wikimedia Commons. Wikimedia Commons also contains audio, and video, but the strength here is definitely images. A lot of the licenses for these images come under the suffix of Sharealike (SA), so watch out for those, unless you expressly want to license your video under creative commons too.
You can search for Creative Commons images with Google, in Advanced Image Search. At the bottom of that Google Search page, you'll see a "usage rights" box, where you'll want to select "free to use share or modify". Always do a bit of digging when you use Google image search though, sometimes copies of images have been incorrectly designated creative commons, while the originals aren't. Make sure the source of the image is reliable.
Another super resource for Creative Commons images is flickr. Once you have searched for something on flickr, you can restrict your search to Creative Commons stuff. See the image below, for an illustration.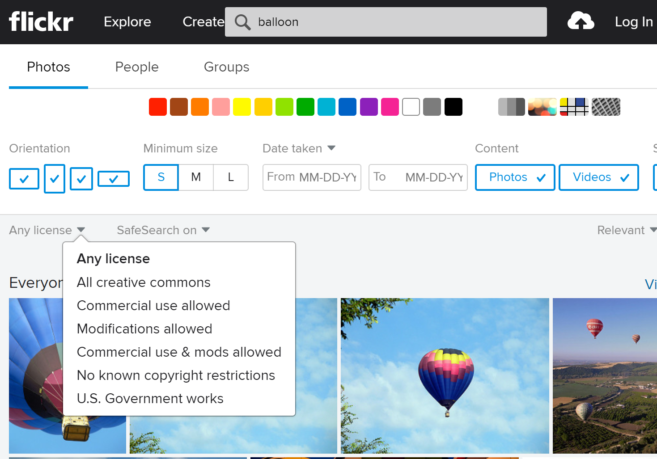 Finding Creative Commons Audio
The problem with finding good Creative Commons audio for your videos is that there is so much to choose from. Unlike images or text, which can be scanned through rapidly, you can't speed listen to audio (meaning that finding the right music can be time intensive). It is worth it though, as the right music can make all of the difference for your video - so keep listening!
Music: Four fantastic places to find creative commons music are:
Sound effects: If you are looking for sound effects (sounds of the rain forest, a truck backing up, a rocket lifting off, etc.), Freesound is the way to go. A free registration at the site is required to download from Freesound. Another site with a less extensive but in some ways different collection of sound effects is Free SFX. There are also channels on places like YouTube and SoundCloud that do CC sound effects too (by the way, here's OrangeFreeSounds from Soundcloud).
Though not Creative Commons specifically, iMovie itself contains a large variety of sound effects that you are free to use in your videos.
Finding Creative Commons Video
One place to find a vast selection of Creative Commons video is at the Internet Archive.
Another source is Vimeo. In Vimeo, once you have searched for something, click on "Advanced Filters". In the resulting box, under License, try all of the licenses except the "No Derivs" licenses (the latter meaning "no derivative works", meaning "don't mess with my stuff"). Though a few videos are directly downloadable from Vimeo, most aren't. You will likely need to use a third party website for the download. There are many such sites, but we recommend Clip Converter.Here's a quick and dirty guide to using Clip Converter:

Paste the URL of the video you want to download
Select MOV
Press continue
Select the highest resolution available
Press start
Press download

A last source for video is YouTube. Once you have searched for something, you can filter your search for Creative Commons licensed material (see image below for illustration). As with Vimeo, you will need to use a third party site to download the video.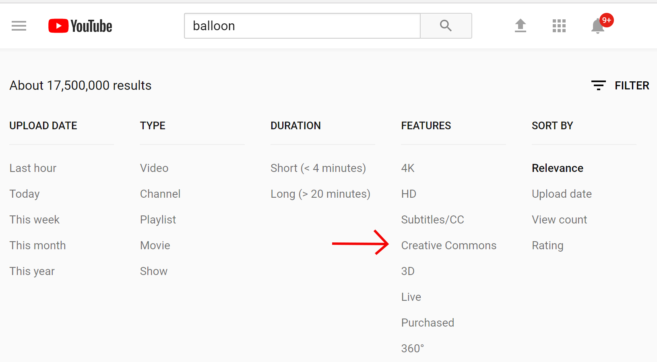 Creative Commons License Types
Here is a list of the different types of Creative Commons licenses available, sorted by best options at the top, and the types of licenses you should avoid at the bottom.
BEST OPTIONS
Attribution – CC BY – This license lets you distribute, remix, tweak, and build upon the work (like putting it in a video), even commercially, as long as you credit the author for the original creation. This is the most accommodating of CC licenses offered. Recommended for maximum dissemination and use of licensed materials. You can do whatever you want with your video as long as you credit the author of the CC material.
Attribution-NonCommercial – CC BY-NC – This license lets you remix, tweak, and build upon the work (like putting it in a video) non-commercially, and although your video must also acknowledge the author and be non-commercial, you don't have to license your video as creative commons.
2ND BEST – USE WITH CARE
You could potentially use material with these licenses below, but using that material comes with the condition that your video is also shared under the same creative commons license once it's online, even if you just use one photo with the SA (Share Alike) suffix in your video. You should avoid material with these licenses if:
You don't want your video, or parts of your video, to be used in other creations that you have no control over
People/institutions that fund your research (or your employers) would object to your video being part of the Creative Commons
Attribution-ShareAlike – CC BY-SA – This license lets you remix, tweak, and build upon the work (like putting it in a video) even for commercial purposes, as long as you credit you and license your video under the identical terms. This license is often compared to "copyleft" free and open source software licenses. All new works based on this will carry the same license, so any derivatives will also allow commercial use. This is the license used by Wikipedia, and is recommended for materials that would benefit from incorporating content from Wikipedia and similarly licensed projects.
Attribution-NonCommercial-ShareAlike – CC BY-NC-SA – This license lets you remix, tweak, and build upon the work non-commercially (like putting it in a video), as long as you credit the author and license your video under the identical terms. Please note that if your video is being used for a directly commercial purpose – like for example, as part of a crowdfunding campaign – this category won't work for you.
AVOID
Using any material with either of these licenses below, in your video, could get you into trouble.
Attribution-No Derivatives – CC BY ND – This license allows for redistribution, commercial and noncommercial, as long as it is passed along unchanged and in whole, with credit to the author, which means you can't use it in a video.
Attribution-NonCommercial-No Derivatives – CC BY-NC-ND – This license is the most restrictive of the six main licenses, only allowing you to download the work and share them with others as long as you credit the author, but you can't change them in any way (like putting it in a video) or use them commercially.