2019 Video Class: Week Zero
Welcome to SciFund Challenge Video Class for Scientists, 2019!
Kristen and Jai (your fearless instructors) are really excited to meet you and to hear the stories you want to tell about your science! If you haven't done so already, then please make sure you have ordered all of the items listed on our recommended equipment list for the class and have them in your possession before the official start of the class on September 29, 2019.
Here's the plan for Week Zero: How to Think About Making a Video.
What is Week Zero? What's the point?
Week Zero exercise: an inside look into making a video.
1. WHAT IS WEEK ZERO (PRE-CLASS)?
Please go through this material before the class officially starts.
In the announcement for the class, we said that the class would be five weeks long, with each week covering a different subject. So why have an extra pre-class Week Zero? It is a common misconception that the secret to a good video is flashy effects and pretty images. Actually what makes a great video is a great story. That's why the focus of this class is really on storytelling. But it's hard to tell a good video story if you are struggling with the basic mechanics of creating a video.
So, that's what Week Zero is all about – giving you a simple introduction to how to think about the mechanics of video production. We are introducing themes for this week that all of us will be coming back to later in the course.
The structure of Week Zero is very different than the rest of the class, which is highly collaborative between class participants. In contrast, you'll be doing Week Zero on your own (but the instructors are still here to help you! Kristen Weiss: weiss@nceas.ucsb.edu, Jai Ranganathan: jai@scifund.org).
The only equipment you'll need for this week is the computer you are using for video editing and your video editing software (HitFilm Express).
2. WEEK ZERO EXERCISE: AN INSIDE LOOK INTO MAKING A VIDEO
A video tells a linear visual story, one video clip shown after another. When we plan a video, we begin to visualize what we want the story to look like in our heads first. It's like we're arranging a jumbled set of images onto a timeline in my brain. This is something that comes easily to us because we've made videos before, but it's not necessarily intuitive. This Week Zero exercise is an experiment to see if we can help you begin to visualize your own videos in this way, and get used to using the software. We think if you can first experience how clips are arranged on a timeline on the computer (turning a jumbled group of moving images into a linear story) you will also be able to start visualizing your story in your head as you plan your own video.
Your task for Week Zero is to create a roughly 1 minute sequence from the video and audio clips we provide. This exercise will take ~3 hours and will introduce you to the software as well as help you plan your own story when the class starts.
Instructions:
Install HitFilm Express on your computer (ensure that your computer meets the requirements for the software). Do note that HitFilm Express strongly suggests that mentioning the software on social media is a requirement for downloading. It isn't and you can skip the social media stuff.
Download the video and audio clips from the SciFund Challenge site here (this is a link to a single 133 megabyte zip file). Once the file has downloaded, you'll need to unzip it in order to see the individual video clips. On most computers, you should be able to unzip the file by just clicking on it. If you're having problems with this step, just let us know!
Watch a short tutorial we made on basic editing in HitFilm Express.
Based on what you have seen in the tutorials, use the clips to make a sequence that tells a visual story.
In the instructions for Week One, we will post a video showcasing how we went about this exercise with the same clips and tools that you are using.
OPTIONAL. Unlike the assignments for the rest of the class, you don't need to upload your final product to the community forum for the class – this video is just for you. In fact we won't be doing any formal interaction at all for Week Zero. On the other hand, if you'd like to share your video with the class (and also your thoughts about what you learned), you are very welcome to the 2019 Video Class community forum.

You can't upload video directly to the Community forum. So our suggestion is to instead upload the video to YouTube and here are the instructions on how to do that. When you upload the video, please be sure to mark it as "Unlisted" (see image below). That way, only those who have the direct video link will be able to see it (that is, for example, random people won't be able to find the video by searching for it).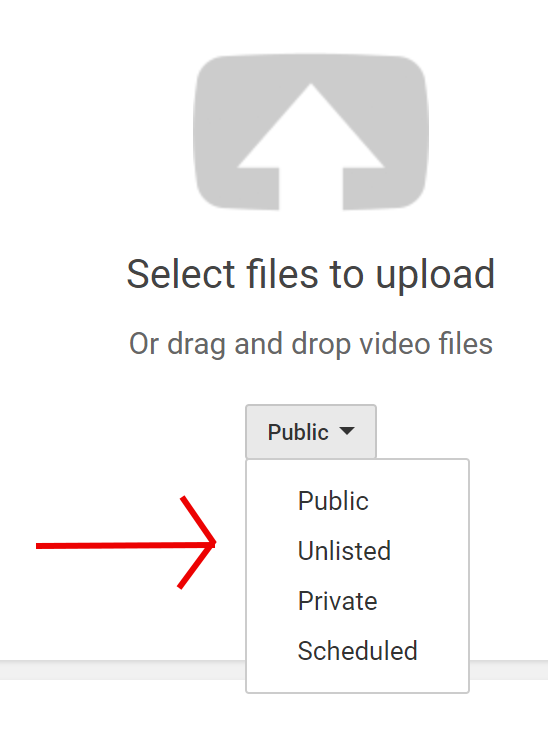 Once you have uploaded your video to YouTube, you can easily share it on the SciFund Challenge Community forum for the class (please be sure to use the Week Zero folder for the class). You are also welcome to share your thoughts about your process of putting the video together. Instructions on how to do both things are provided on the Community site. You should have already received an invitation to join the site. If you didn't, or if you are having any trouble with the site, please get ahold of Jai (jai@scifund.org).
Lastly, we would love for you to share your thoughts on Week Zero when the video discussions for Week One start up.
Good luck and we will see soon for Week One of the Scifund Challenge Video Training Class for Scientists 2019. Any problems? Please do get in touch (Kristen: kristen@nceas.ucsb.edu; Jai: jai@scifund.org).